Characteristics of Supercritical carbon dioxide extraction process
In the supercritical state, supercritical carbon dioxide comes into contact with the substance to be separated, so that components of different polarity, boiling point and molecular weight can be selectively extracted in turn. Of course, the extract corresponding to each pressure range cannot be single, but the conditions can be controlled to obtain a reasonable proportion of mixed components, and then the supercritical fluid is turned into ordinary gas by reducing pressure and heating up, so that the sudden extract is completely or basically precipitated, so as to achieve the purpose of separation and purification. Therefore, the supercritical CO2 extraction process is a combination of sudden extraction and separation.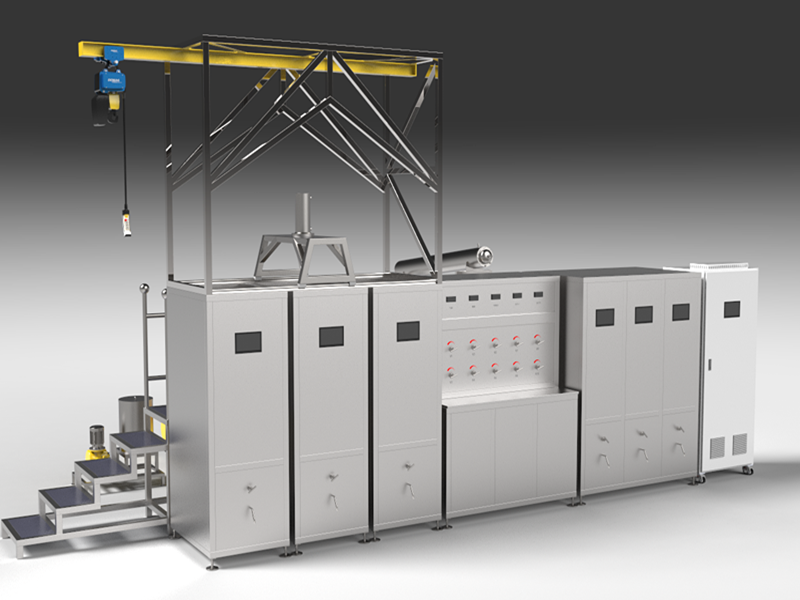 Supercritical carbon dioxide arrest devices can be divided into two types: one is research analysis, which is mainly used to analyze small amounts of substances or provide data for production; This is followed by preparation and production, mainly for batch or mass production. The supercritical interception device can be divided into eight parts: picket supply system, high-pressure system, cryogenic system, extraction system, separation system, circulation system and computer control system, modifier supply system, including carbon dioxide injection pump, carbon dioxide storage tank, separator, extractor, compressor, chiller and other equipment. Since the extraction process is carried out under high pressure, the equipment and the entire piping system are required to have high pressure resistance. Automated monitoring of the production process can greatly improve the safety and reliability of the system and reduce operating costs.
Supercritical carbon dioxide arrest and chemical extraction: (1) Sudden extraction can be carried out under the cover of room temperature and CO2 gas, effectively preventing the oxidation and escape of heat-sensitive substances. Therefore, all components of the plant remain in the extract, and substances with high boiling point, low volatility and pyrolysis can be extracted at temperatures below their boiling point; (2) SFE is a clean extraction method, because no organic solvents are used throughout the process, so the extract has no residual solvents, and at the same time prevents the toxicity to the human body and environmental pollution during the extraction process; (3) Sudden seizure and separation are combined into one. When CO2-SCF saturated with dissolved substances flows through the separator, CO2 and pickpocket quickly become two-phase (gas-liquid separation) due to pressure drop, and are separated immediately, which not only has high interception efficiency, but also consumes less energy and saves costs; (4) CO2 is an inactive gas, does not undergo chemical reactions during the extraction process, is non-combustible, odorless, and odorless, so it is safe; (5) CO2 has high purity, is inexpensive, and can be recycled in the production process, reducing costs.
Supercritical carbon dioxide looks at the characteristics: (1) liquid arrest, the arrest speed is fast, especially suitable for the separation and arrest of solid substances; (2) Lower energy consumption than ordinary distillation, operating under conditions close to normal temperature, suitable for the separation of heat-sensitive substances and oxidizable substances; (3) The heat transfer speed is fast and the temperature is easy to control; (4) It is suitable for the separation of volatile substances.