Principle and Application of Supercritical CO2 Extraction Equipment
Supercritical CO2 extraction equipment is a kind of equipment that uses high pressure and high temperature conditions to convert substances into supercritical state, so as to achieve extraction. The equipment has the advantages of high extraction efficiency, convenient operation and environmental protection, and is widely used in chemical, pharmaceutical, environmental protection and other fields.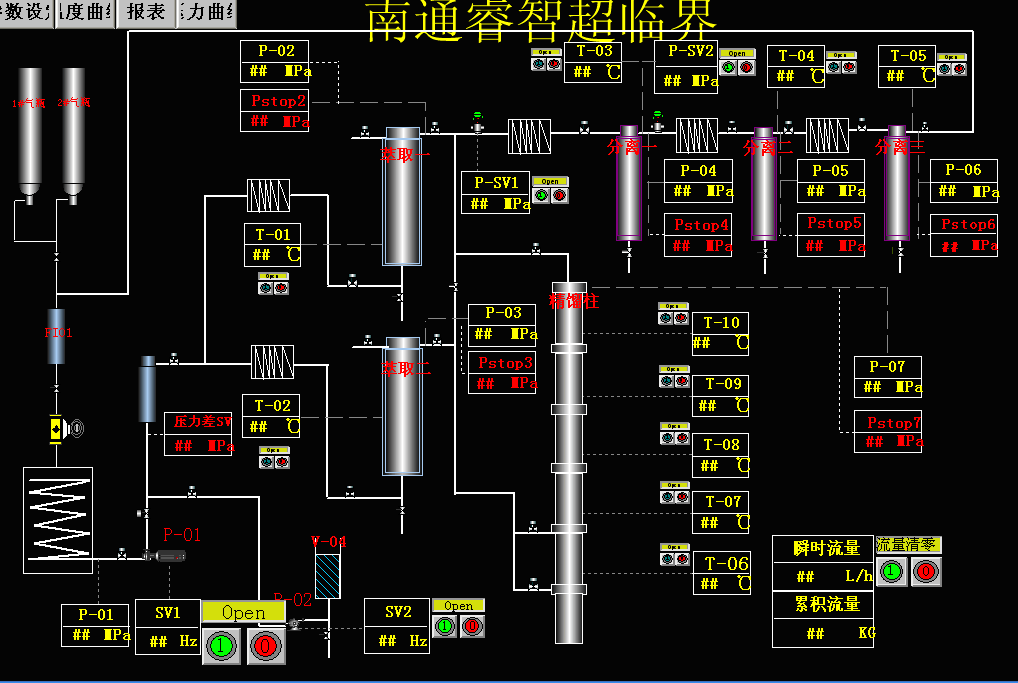 Supercritical CO2 extraction equipment, traditional chemical production, usually have a variety of chemical reactions and subsequent separation and extraction processes, in which the large amount of waste water and waste gas produced is often difficult to treat. In the supercritical extraction process, a multiphase system is used, which produces almost no waste water and exhaust gas. Moreover, the extraction efficiency of supercritical extraction equipment is high, which replaces some traditional organic solvent extraction processes, effectively reduces the use of organic solvents, and achieves the effect of energy saving and emission reduction. In the process of operating the supercritical extraction equipment, I deeply felt the importance of environmental protection and sustainable development. We must make full use of and give full play to the advantages of science and technology in actual production and application, and promote green development, in order to do a good job in the basic work of harmonious coexistence between man and nature.
Supercritical CO2 extraction equipment is a technology that uses supercritical fluid as the extraction medium. Supercritical extraction equipment enables efficient extraction of target substances by regulating temperature, pressure and fluid properties. The supercritical fluids used in the equipment have stronger solubility and higher diffusion coefficient than conventional solvents, so the extraction efficiency of target substances can be improved. In addition, supercritical extraction has the characteristics of small solubility, high substitution efficiency and high degree of purification, making it a more researched and widely used technology in the field of extraction.
The application of supercritical CO2 extraction equipment in drug preparation can not only improve the efficiency and purity of drug preparation, but also reduce the amount of solvent used and reduce the cost of drug preparation. For example, supercritical carbon dioxide is one of the most widely used extraction media, which can be used to extract various pharmaceutical raw materials, such as plant extracts, fruit juices, etc. It also has a wide range of applications in the food industry. For example, supercritical extraction can be used to extract caffeic acid, tea polyphenols, terpenes and other substances, and can be used to extract peanut oil, lard and other plant and animal fats, while maintaining its original nutrients and fresh taste.
Supercritical CO2 extraction equipment is also widely used in the environmental protection industry. For example, it can be used to treat wastewater containing toxic pollutants, stir toxic pollutants with supercritical fluids, and then pump them out instantaneously to achieve the purpose of removing toxic pollutants. It also has a wide range of application prospects in the fields of chemical industry, energy and materials. For example, supercritical extraction can be used to prepare synthetic fibers, ceramic materials, metal materials, etc.
Supercritical CO2 extraction equipment is an effective, environmentally friendly and low-cost extraction technology with a wide range of application prospects. In the future, with the continuous development and improvement of technology, it is believed that supercritical extraction equipment will show its strong application value in more fields.